Experience Design Tools
Wir haben eine Vorstellung davon, wie Experience Design am Besten funktioniert. Um Ihnen diesen Ansatz zugänglich zu machen, haben wir für Sie einige Werkzeuge zur Unterstützung Ihrer Designpraxis erarbeitet.
We have an ideas of how Experience Design works best. To make our approach available to you, we designed some tools to support your design praxis.
Bedürfniskarten
Need Cards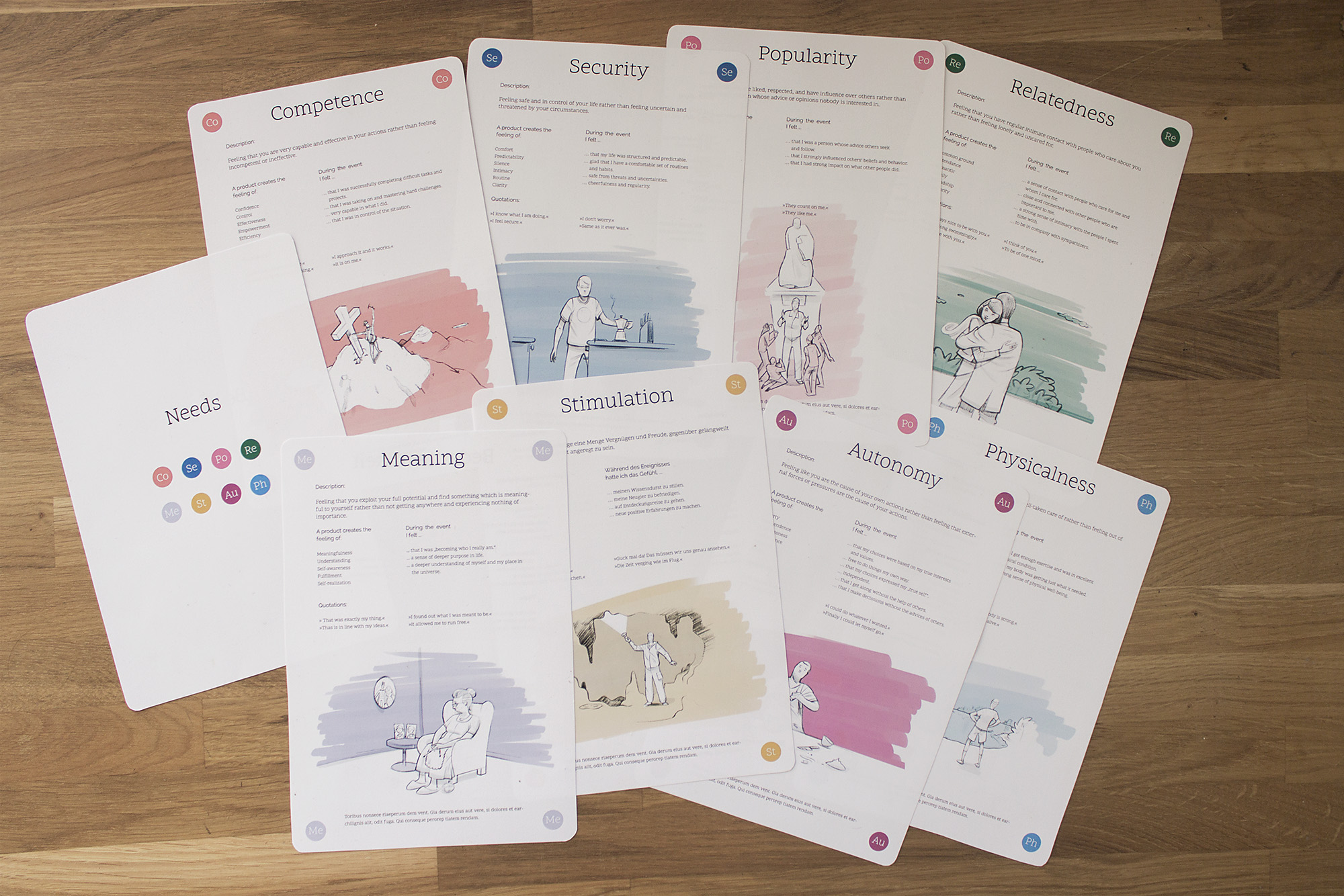 8 Bedürfnisse als Ansatzpunkt für die Gestaltung interaktiver Produkte
(Zweisprachig deutsch/Englisch)
Jede Karte beschreibt ein psychologisches Bedürfnis, das eine Quelle für positives Erleben sein kann – auch bei der Interaktion mit technischen Produkten. In der Gestaltung interaktiver Produkte bieten die Bedürfniskarten sowohl Orientierung als auch Inspiration. Neben einer kurzen Beschreibung finden sich auf jeder Karte typische Gefühle und Zitate im Zusammenhang mit dem jeweiligen Bedürfnis und eine Liste von Gefühlen, welche ein Produkt im Nutzer auslösen kann, wenn es dieses Bedürfnis adressiert.
Das Set besteht aus 8 Bedürfniskarten und einer Deckkarte mit einer kurzen Beschreibung:
Verbundenheit
Sicherheit
Kompetenz
Popularität
Stimulation
Autonomie
Bedeutsamkeit
Körperlichkeit
Die Bedürfniskarten sind für Workshops oder Gruppenarbeiten auch in DIN A3 Poster-Format erhältlich (ebenfalls zweisprachig: deutsch/english).
8 NEEDS AS A STARTING POINT FOR DESIGNING
INTERACTIVE TECHNOLOGY
(in two languages: German/English)
Each card describes a psychological need, which can be a source of positive experiences – also when interacting with technical products. Need cards provide both orientation and inspiration for the design of interactive products. In addition to a brief description you find typical feelings and quotes related to a particular need and a list of feelings which a product can trigger if it addresses this need.
The set consists of 8 need cards and a cover with a short instruction:
Relatedness
Security
Competence
Popularity
Stimulation
Autonomy
Meaning

Physicalness
For workshops and group work the need cards are also available in DIN A3 poster format (in two languages: German/English).
Interaktions-Vokabular Karten
Interaction vocabulary Cards
 
11 Interaktionsdimensionen, 22 Interaktionsattribute + Erlebnisqualitäten
(Zweisprachig deutsch/Englisch)
Dieses Kartenset erleichtert den Einsatz des Vokabulars als Werkzeug in der Interaktionsgestaltung. Jede Karte verkörpert eine Dimension, mit deren gegensätzlichen Attributen auf Vorder- und Rückseite. Das Ablegen einer Karte auf die eine oder andere Seite steht dabei für die Entscheidung für die entsprechende Eigenschaft. Um den Interaktionsdesigner bei seiner Entscheidung zu unterstützen und die Interaktion auf das gewünschte Nutzererleben hin auszurichten, informieren die Karten zusätzlich über potentiell verbundene Erlebnisqualitäten.
Das Interaktionsvokabular bietet eine Reihe von Dimensionen anhand derer grundlegende Eigenschaften von Interaktion beschrieben werden können. Es ist in erster Linie hilfreich für Interaktionsdesigner, da es Ansatzpunkte für die Interaktionsgestaltung aufzeigt und die Kommunikation über intendierte Eigenschaften erleichtert. Das Interaktionsvokabular schlägt elf Dimensionen bzw. gegensätzliche Attributpaare zur Interaktions­beschreibung vor. Diese sind als wertfrei beschreibende sowie nicht an eine bestimmte Technologie gebundene Attribute zu verstehen
11 basic dimensions of interaction, 22 interaction attributes + experiences
(in two languages: German/English)
The Interaction Vocabulary provides a number of dimensions to describe basic properties of interaction. It is mainly useful for interaction designers as it shows starting points for designing interaction and facilitates communication about intended properties. The Inter­action Vocabulary suggests eleven dimensions, each in a pair of opposing attributes. These are descriptive, non-judgmental, non-technology bound attributes of interaction.
Each card represents one of the Interaction Vocabulary's dimensions, with the opposite poles on each side of the card. In the design process, turning a card on one or the other side represents a preference for the respective interaction attribute. To support the designer in aligning her or his choice with the intended experience, the card also informs about potentially related experiences. Turning the card on one side or the other, thus, may also
be motivated by the desired experiences.
References Need Cards
Sheldon, K.M., Elliot, A.J., Kim, Y., Kasser, T., 2001. What is satisfying about satisfying events? Testing 10 candidate psychological needs. Journal of Personality and Social Psychology 80, 325–339.

Hassenzahl, M. & Diefenbach, S. (2012). Well-being, need fulfillment, and Experience Design. In Proceedings of the DIS 2012 Workshop on Designing Wellbeing. June 11-12, 2012, Newcastle, UK.

Hassenzahl, M. , Diefenbach, S. & Göritz, A. (2010). Needs, affect, and interactive products – Facets of user experience. Interacting with Computers, 22, 353-362.

Hassenzahl, M., Eckoldt, K., Diefenbach, S., Laschke, M. & Lenz, E. (2013). Designing moments of meaning and pleasure – Experience Design. International Journal of Design, 7 (3), 21-31.
References Interaction Vocabulary
Diefenbach, S., Hassenzahl, M., Kloeckner, K., Nass, C. & Maier, A. (2010): Ein Interaktionsvokabular: Dimensionen zur Beschreibung der Ästhetik von Interaktion. In H. Brau, S. Diefenbach, K. Göring, M. Peissner, und K. Petrovic (Hrsg.) Usability Professionals 2010 (27-32). Stuttgart: German Chapter der Usability Professionals' Association e.V.
Diefenbach, S., Lenz, E. & Hassenzahl, M. (2013). An Interaction Vocabulary. Describing The How Of Interaction. In Proceedings of the CHI 2013 Conference on Human Factors in Computing Systems. Extended abstracts (pp. 607-612). New York: ACM Press.
Lenz, E., Diefenbach, S. & Hassenzahl, M. (2013). Exploring Relationships Between Interaction Attributes and Experience. Proceedings of the DPPI 2013 Conference on Designing Pleasurable Products and Interfaces (pp. 126-135). New York: ACM Press.
Diese Arbeiten wurden gefördert durch das Bundesministerium für Bildung und Forschung (BMBF).
This research was funded by the Federal Ministry of Education and Research.